co 360
A COMPANY,, A RELIABLE PARTNER
CO 360 is a company specialized in the accompaniment and the advice of the key actors of the high level sport. Its expertise ranges from identifying and recruiting talent to organizing elite sports events, seminars and training. CO360 is actively involved in supporting sports clubs, international university teams, qualified technicians and elite and professional athletes. CO360 was founded with the idea of helping key players in high performance sports achieve excellence. Thus, we work on 2 axes: first, the purely coaching and sports consulting axis with a strong focus on basketball. We work on the implementation of NBA programs via exchange gateways between the USA, Africa and Europe for athletes, qualified technicians and clubs. Secondly, the axis where our clients benefit from our expertise to implement their action plans to achieve their initial goals.
The Founding DuoThe founding duo, Jonathan McClark and Darnell Williams, share a common love for the game of basketball, as evidenced by their 45 years of experience in the sport, including 35 years playing against top national and international teams while successfully competing for the most prestigious trophies. After successful careers in high performance sport, CO360 was born, bringing together in its teams the expertise combined with an international network that enables key players in high performance sport to achieve excellence in a demanding and highly competitive industry. We are eager to pass on this experience to the different actors involved in order to direct them towards programs that will allow them to rapidly improve their skills in order to obtain recognition and the realization of their projects.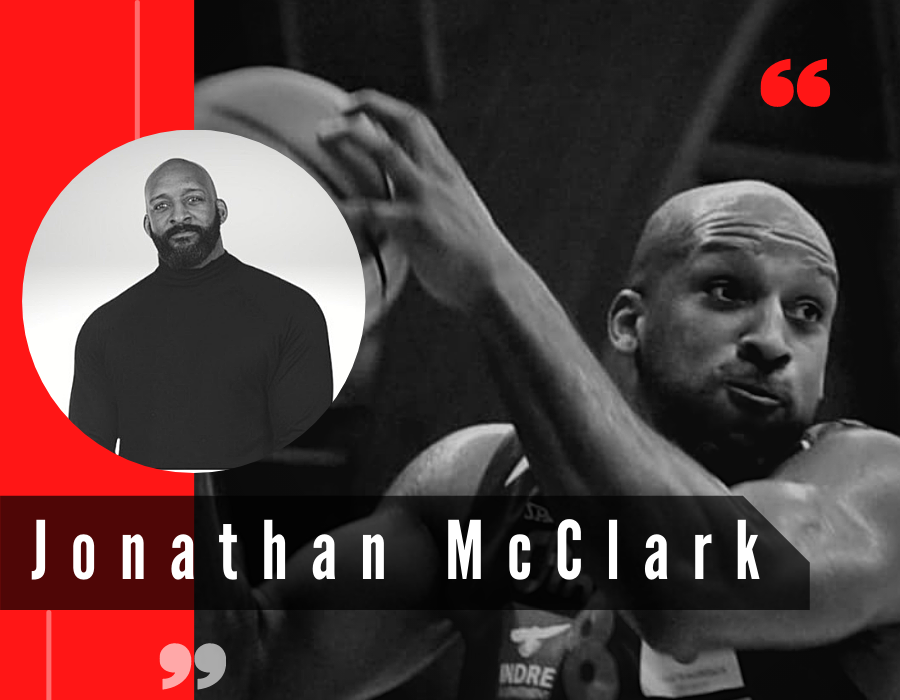 Who is
Jonathan McClark ?
Jonathan McClark né le 17 mars 1977 à Providence aux États-Unis, est un joueur américain de basket-ball évoluant au poste de pivot. Hormis une première expérience en Espagne à Cordoue en 2001 – 2002, Jonathan McClark a passé l'essentiel de sa carrière en France : Levallois Sporting Club (NM1 / 2002 – 2003), SPO Rouen Basket (Pro B / 2003 – 2005) et retour en 2009 au SPO Rouen Basket (Pro A), Stade Clermontois (NM1/NM2 / 2011 – 2015), avant de conclure sa carrière en 2016 à La Berrichonne de Châteauroux (NM3) … Après l'avènement de sa carrière de Basketteur, il exercera ensuite de nombreuses fonctions de Consultant Business / Sportif au sein de plusieurs sociétés : telles que DBS Global Management, Etoile Chamalières Basketball…Aujourd'hui, il occupe le poste de Consultant Sports chez B&E CONSULT.
Who is
Darnell Williams ?
Darnell Williams est un joueur de basketball américain né le 03 Octobre 1978 à Atlanta. Il joue au poste d'ailier fort. Après sa dernière année d'études, on lui a proposé un essai avec une équipe en Europe. Il s'agissait d'une équipe de troisième division en France. Darnell Williams, le Franco-Américain demeure un joueur à part, de par sa longévité et son exemplarité avec une carrière riche dans de nombreux clubs Rodez (2001-2002, N1), Rouen (2003-2004, N1, Pro B), Beauvais (2004-2005, Pro B), Rouen (2007-2011, Pro B, Pro A), club de Saint-Quentin (2012-2017, N1, Pro B) où il effectue un parcours long et réussissant, Tours (2018-2019, N2, N1). Il dispose d'un palmarès de champion de France de N1 en 2003 et 2012. Il entame ensuite une carrière dans le consulting sportif en fondant Dunes GST et en devenant COE International Showcase, Camp de découverte du basket-ball en Californie.
why choose us ?
Our added value
Key figures
OUR STATISTICS SPEAK IN OUR FAVOR
CO360 is proud of the history, experience and vision of its management team, which combines expertise in high-level sports and key sectors to provide quality advice and support to its clients.
of experience in high level sport
Accompaniment of high level sport actors in Europe, North America and Africa.
of experience in high level competitions
of a high-level athlete reconverted to coaching, training and consulting: McClark and Williams
Aware of the challenges faced by those involved in high performance sport and future talent.
Nous vous proposons une offre sur mesure liée au travail et au perfectionnement. Bénéficiez du soutien sans faille de nos experts, nous vous permettons d'être au meilleur de vos performances tout en les maintenant sur la durée.
Support for high-level athletes
Customized coaching : physical, technical, tactical and mental preparation.
Internship from:
pre-season
mi-saison
end of the season.
SUPPORT AND SPORTS COURSES FOR JUNIOR CATEGORIES
Organization of training camps, international improvement courses for junior categories: physical and technical improvement activities and development of tactical intelligence.
TALENT IDENTIFICATION AND RECRUITMENT
Identification and recruitment of elite athletes and qualified technicians through the establishment of international camps on several continents.
ORGANIZATION OF TRAINING COURSES AND ADVANCED CAMPS
Organization and implementation of training and development camps for qualified technicians (coaches, referees) and high level athletes.
ORGANIZATION OF SPORTS COMPETITIONS
Organization of international junior tournaments and exhibition camps in France and the USA with the presence of observers and professional recruitment specialists.
The projects of high level athletes are prepared in advance and not only at the end of their elite or professional careers.
In many cases, top athletes are not prepared for the end of their exciting sports adventures.
CO 360 accompanies you in your life projects and reconversion at the beginning, during and at the end of your career as a high level athlete because we are convinced that this remains one of the major concerns of high level sport in France and in the world.
Seminars and trainings:
Level 1 - beginner
Level 2 - intermediate
Level 3 - Advanced 
Creation of companies
Investments
Digital marketing and digitalization
Negotiation techniques
Business management, projects
Legal and commercial advice
CO 360
Accompanies the qualified technicians: Coaches, and Referees
DO YOU HAVE A PROJECT IN HIGH-LEVEL SPORT?
LET'S TALK ABOUT IT TOGETHER